ENVY Light Capsule – get results that make you feel great again.
LIGHTWAVE offers the largest variety of non-invasive face and body treatments that can be done all skin types, year round and without any down time.
Full-body red and infrared light therapy have become a central talking point among medical professionals in recent years. Companies like Lightwave Therapy have become integral in normalizing some of the health benefits that red, infrared, and blue light therapy can provide. A fascinating and rapidly popularizing form of physical relief, let's take a closer look at how full-body red and infrared light therapy works and can help you on your healing journey..

Promoting Healing: How IR Light Therapy Can Help!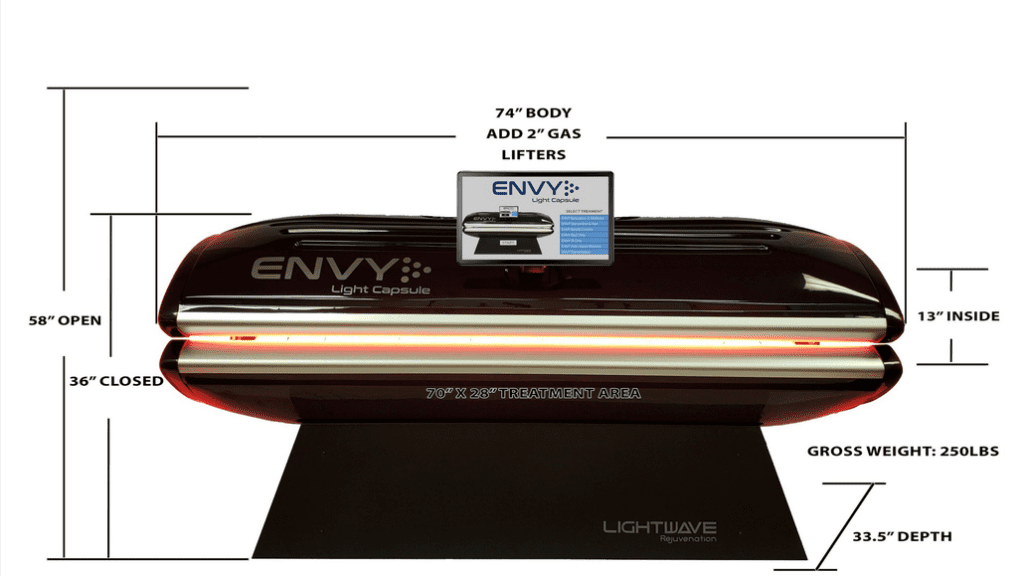 ENVY Light Capsule Session
Lightwave Therapy
Be sure to schedule your Envy Light Capsule session today. Choose from these treatments:
We are so confident that you will love these unique Lightwave Therapy experiences that we are offering packages. Packages of 6 and 10 sessions require full payment in advance, and are non-transferable and non-refundable.
NON-INVASIVE
Results that make you feel great again
Face & Body Multi-Zone
Proprietary Multi-Zone Encapsulation Technology (MET)
Focus on what matters! The ENVY bed is far superior and the only device on the market to offer full body treatments and focused facial applications simultaneously. Don't settle for any less than the best. Lightwave's proprietary Face Zone offer the full gamut of Lightwave LED Therapy protocols as well as all the hot new Topical Light Infusion (TLi) treatment.
Full Encapsulation
Top and Bottom LEDs
The ENVY Light Capsule stimulates the entire body in one treatment utilizing Stimu-LED diode technology. Beloved by patients and professionals, the Capsule targets more problem areas, faster than ever before.
Twenty Four Thousand LEDs
Its only fitting the 24k Gold Standard Company Use 24K LEDs.
LIGHTWAVE's Envy Light Capsule™ is the most advanced professional grade LED Light Therapy Bed and offers the most sophisticated and versatile features available in the market. Utilizing 24k StimLED™ diodes to insure proper output combined with our PureLED™ Technology you will feel and look better than you ever imagined. Our technology has received multiple clearances, backed by significant scientific data, years of field service and a commitment to excellence.
Total Control At Your Fingertips
Dual LCD Touchscreen
Should you need touchscreen access from inside the capsule or out, we have you covered. Control and customize your treatments with beautiful simplicity.
Patented
Multi-Wavelength Platform
Our patented multi-wavelength platform system makes it possible to address a variety of skin conditions ranging from fine lines, discoloration, flaccid skin, and dermal repair to acne and PDT treatments all in one system.
Disclaimer
All Lightwave products are not intended to diagnose, treat, cure or prevent any disease that they are not approved or clear for. Consult your physician before beginning any treatment program.